Adventures for a family on a budget are hard to find, but priceless once they are found. From mastering a new instrument to adventuring into the great outdoors, some of the best things in life truly are free. Enjoy our pick of the top 30 free activities for families this February.
Don't forget to hashtag #NJMOM and tag @njmomhq and your little cuties could be featured in our next photo round-up.
Here are 30 Free Events in New Jersey this February:
Via Homelyhammock.com
1. Join a Book Club
February 27 | 1:30 PM – 2:30 PM
What's better than reading as an individual? Reading with friends! Spend a day at the New Brunswick Free Public Library and enjoy making new friends while exploring the story of some fictional friends. This meeting will discuss "My Brilliant Friend: Neapolitan Novels, Book One" by Elena Ferrante, which is "an intense exploration of a lifelong friendship between Lila and Elena." For more information, please click here.
60 Livingston Ave, New Brunswick, New Jersey 08901
2. Visit the Carrol Gallery Exhibit
January 16 – April 9
In honor of Black History Month, educate your family about some of the rich history that lies right here in New Jersey. Since January 16, The Center for Community Arts 2017 African-American History Exhibit created "Moore History: The life and works of William J. Moore." Learn about one of the most influential Cape May natives and educators. For more information, please call 609-884-5404.
1048 Washington St., Cape May, NJ 08204
3. Make Edible Arts & Crafts at Actzion 
February 11 | 10 AM – 12 PM
Crafts and eating are two of my favorite pastimes – combine the two and it's a recipe for success. Enjoy a day with the Actzion Ministries from Clifton, NJ as they host an edible arts and crafts day!
352 Clifton Ave, Clifton, New Jersey 07011
Via Barnes and Noble on Facebook.com
4. Enjoy Disney Reads Day!
February 4 | 11 AM – 12:30 PM
If you love Disney, it is hard to "Let it Go." Find the perfect cure for your frozen blues at Barnes & Noble of East Brunswick, as they celebrate the "Magic of Storytelling!" Storytime will figure the Disney classic Princess and Pixar Storybook Collection as well as Acitivities & Giveaways.
Brunswick Square, 753 New Brunswick Ave, East Brunswick, NJ 08816
5. Go to Storytime at your local library
Many libraries offer family-friendly story times that promote a love for reading. Take advantage of these to find your new favorite bedtime story or explore the newest edition of your child's favorite chapter book. (Some libraries even specify the age group for certain books, so you can find the perfect story to fit your family's unique needs.
30 Hanover Ave, Whippany, NJ 07981

Via Morris County Library on Facebook.com
6. Learn about art and science at the Morris County Library 
February 25 | 3 PM – 4 PM
Help your child explore their different passions at Morris County Library's STEAM Ahead day. This event will focus primarily on sciences and art in a creative, hands-on, fun filled environment! (This event is ages 5 & up.) For more information, please call (973)-285-6980.
30 Hanover Ave, Whippany, NJ 07981

7. Read & Roll Skating Party
February 26 | 9:30 AM – 11:30 AM
Enjoy one of America's favorite pastimes while celebrating Dr. Seuss' birthday! Free admission includes: skating admission, Dr. Seuss book reading, and even birthday cake! For more information, please call
(856) 845-7353.
Deptford Skating Center
510 Deptford Ave, Westville, New Jersey 08093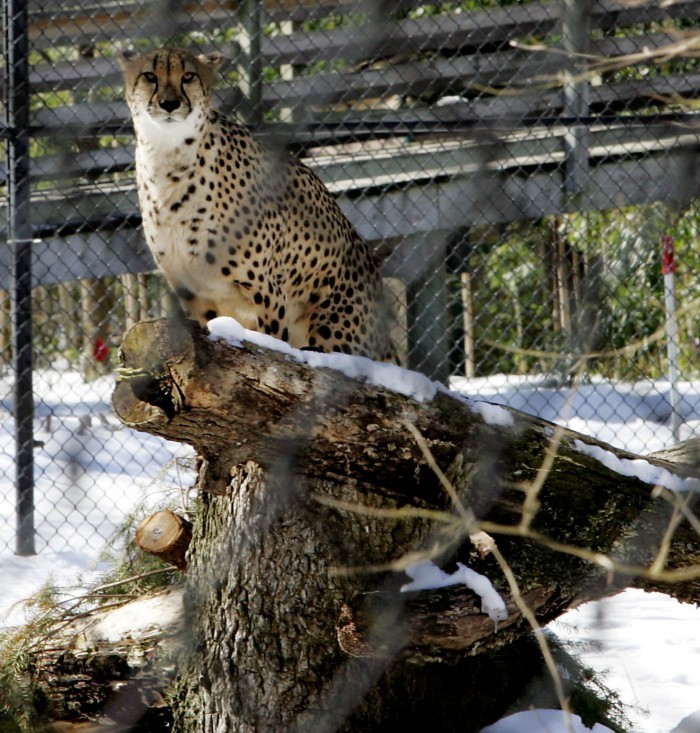 Via Capemaycountyzoo.org
8. Go on a Scavenger Hunt at the Cape May County Zoo 
Daily | 10:00 AM – 3:30 PM
Lions, giraffes, and snakes, oh my! These are just a few of the animals on display at the Cape May County Zoo in Cape May, NJ. This zoo is nonprofit and aims to teach children and adults about the wildlife that surrounds them. This winter, the zoo has included a scavenger hunt to accompany you and your family as you explore all that nature has to offer. With free parking, free admission and multiple free events, this is an amazing way to spend the day with some of your favorite critters. For more information, please call (609) 465-5271.
707 U.S. 9, Cape May Court House, NJ 08210
9. Become a "Junior Musician"
February 27 | 6 PM – 8 PM
Join the girl scouts as they take turns learning how to play instruments, conduct musicians, and write songs. This demo will be taught by two certified music teachers, so the learning opportunities for your child are endless! (This activity will take place on the second floor and there is no elevator available.)
East Dover Elementary School
725 Vaughn Ave, Toms River, New Jersey 08753
10. PJ Library Free Character Breakfast Pajama Party!
February 26 | 10 AM – 11:15 AM
Libraries aren't just for reading… dress comfortably in your favorite pajamas and come to the Solomon Schechter Day School to meet the Paw Patrol, Peppa Pig, Lego Batman, Mickey, and more! For more information and to RSVP, please email linda@schechtergmc.com or call 732-431-5525.
Solomon Schechter Day School of Greater Monmouth County
Marlboro, New Jersey 07746
11. Valentine's Day Learning Event
February 11 | 10 AM – 3 PM 
Visit any Lakeshore Learning Store for #FreeCraftsForKids! Young imaginations soar through the cosmos with this one-of-a-kind rocket!
Click here to find a Lakeshore Learning Store near you.
12. Attend a Valentines Day Party
February 13 – February 14
Let your heart shine through this February in honor of Valentine's Day. Your child will have the opportunity to explore their creativity at this kid-only event. They will be given crafts and the opportunity to interact with each other on one of the most loving holidays of the year!
Gaul's Nursery & Arts Centre
528 E. Main St., Maple Shade, New Jersey 08052
13. Hear a speaker discuss "Raising Resilient Girls."
February 6 | 7 PM – 8:30 PM
This year, (and every year,) is a critical year for women of all race and backgrounds; this conversation, hosted by Girls Leadership, is primarily about helping girls to develop their own voice and to navigate the confusing world of today. Join Girls Leadership's Founder and Executive Director, Simone Marean, for her acclaimed parent education talk entitled "Raising Resilient Girls." For more information and to RSVP, click here.
Oak Knoll School of the Holy Child
44 Blackburn Rd, Summit, New Jersey 07901

Via Pennington Public Library on Facebook.com
14. Go on a Family Scavenger Hunt at the Pennington Public Library 
February 6 | 10 AM – 8 PM
This library event is a little bit different from your usual storytime read-alongs. Bring your family to the Pennington Public Library for a scavenger hunt through the books to win prizes! This is also an opportunity for your family to learn how to use NoveList. For more information, please contact 609-737-0404.
30 N Main St, Pennington, New Jersey 08534
15. Celebrate Dr. Suess' Birthday
February 25 | 10 AM – 3 PM PST
Visit any Lakeshore Learning Store for #FreeCraftsForKids! Young imaginations soar through the cosmos with this one-of-a-kind rocket!
Click here to find a Lakeshore Learning Store near you.
16. Go to Morris County Winter Farmers Market
Sundays | 10 AM – 2 PM
Just because it's cold outside doesn't mean the Farmers Market is less delicious. Let Morris County keep your family eating healthy, good food. Produce will be available from a variety of local farms, as well as artisan bread, honey, even gelato! Yum!
Indoors at Alexander Hamilton School
24 Mills St, Morristown, NJ 07960

Via Mexicali Live on Facebook.com
17. See live music
February 7 | 7 PM
The New Jersey music scene is one of the most underrated aspects of our local art. You never know when you might stumble upon the next Bruce Springsteen, Jonas Brothers, or Halsey. Don't believe me? Come to Mexicali Live on February 7th for some live music and incredible Mexican food! (Try the nachos, they're amazing!) For tickets, click here.
1409 Queen Anne Rd, Teaneck, New Jersey 07666
18. Join NJ Kids and partners for a Free Valentine's Party
February 16 | 11 AM – 1 PM
Who doesn't love a free party! This party at the Paramus Park Mall will definitely get your heart pumping. There will be Valentines fun for the little ones, crafts, interactive fun, giveaways and prizes! For tickets and more information, click here.
Paramus Park, Paramus, NJ 07652, United States (Exact location TBD)
19. Chinese New Year Celebration
February 26 | 1:30 PM – 4 PM
Although Chinese New Year has passed, there are still plenty of opportunities to learn about Chinese culture and customs. This February, join the New Brunswick Free Public Library in an afternoon of Chinese calligraphy, Chinese painting, paper cutting, colorful folk dancing, and music performances provided by the students and teachers from the Edison Chinese School.
60 Livingston Ave, New Brunswick, New Jersey 08901
20. Have the family attend a guitar seminar
February 7 | 4 PM – 5 PM
Have a passion for music that you've always wanted to pursue? Now is your chance! Have the family take a guitar seminar this February in Little Ferry, New Jersey. Learn the basics or improve your skill with those you love the most!
100 Washington Ave, Little Ferry, New Jersey 07643
21. Play Lacrosse 
February 16 | 6 PM – 8 PM
Help your family stay active this winter! Lacrosse is a unique and exciting sport and if you child has expressed interest in it, this is the time for them to try it. This clinic is free and open to all boys and girls grades kindergarten through 8th. No experience or equipment needed! To register, please go to: jerseycitylacrosse.org/register.
222 Laidlaw Ave, Jersey City, New Jersey 07306
Via somersetcountyparks.org
22. Learn about plants and insects
February 11 to March 12 | 9am – 5pm
It's tough to be a bug! In this exhibition Ridge High School, students will research and explore invasive species and then create new artwork based on their findings. The exhibition will feature drawings, alongside inventive "Artist Books" and board games. This new body of work explores the introduction, ecology, and environmental impact of invasive plants on our delicate ecosystems. For more information, please call (908) 766-2489.
Environmental Education Center, Basking Ridge
190 Lord Stirling Rd, Basking Ridge, NJ 07920
23. Enjoy an Art and Photography Exhibit
February 21 to March 17  | 10 AM – 4 PM
This exhibit will feature photographs, paintings, and drawings showcasing the four seasons at Leonard J. Buck Garden. See the garden's many faces through the works of talented artists and photographers. This exhibit will be held at the Leonard J. Buck Garden Visitor Center. For more information, please call (908) 766-2489.
Leonard J. Buck Garden, Far Hills
11 Layton Rd, Far Hills, NJ 07931
24. Attend a Concert 
February 24 | 8 PM – 10 PM
Inspired by recent events, TCNJ's band and wind ensemble will be preforming On Violence & Peace, which includes music written as statements on the horrific, violent events in the Civil Rights Era, Nazi Germany and the tragic mass shooting at Sandy Hook Elementary School. This event is preformed by the students of The College of New Jersey, but is free and open to the public.
2000 Pennington Rd, Ewing, New Jersey 08618
Via Rancocas Nature Center on Facebook.com
25. Attend Thursday Preschool Story & Music Time
February 23 | 11 AM – 12 PM
Preschool is a time to enjoy the innocence of childhood. Spend that precious time together with your kids. Children hear thre short stories read aloud, three songs that are played along to with rhythm instruments, and enjoy a kid-friendly craft.
794 Rancocas Rd, Mount Holly, New Jersey 08060

26. Or discover the great outdoors by Night Journaling 
February 11 | 2 PM – 3:30 PM
Make a journal, investigate the trails, and record your observations! Explore the great outdoors with your family in Mount Holly, NJ. We'll bundle up and get outside to enjoy some quality family time and a nature adventure. Meet like-minded families and build friendships! For more information, please call 609-261-2495.
794 Rancocas Rd, Mount Holly, New Jersey 08060
27. Browse NJ's Premier Outdoor Flea Market
February 11 and February 25 | 8 AM – 4 PM
Browse for that perfect throw rug or comic book for a special someone. There are hundreds of different kinds of merchandise and food vendors, free entertainment, and games for your kids. And because there is free parking, this is the perfect opportunity to get out of the house and moving about! For more information, please visit NewMeadowlandsMarket.com.
1 MetLife Stadium Dr, East Rutherford, New Jersey 07073 
28. Survey a Summer Camp
February 25 | 10 AM – 2 PM
This is for those families who are counting down the days until summer vacation. There will be arts and crafts, face painting, and staff members available to discuss summer activities.
580 Old York Rd, Somerville, NJ 0887
Via Renaissance Church on Facebook.com
29. Watch the Super Bowl / Attend a Super Bowl Party 
February 5 | 6 PM – 9:30 PM
The Super Bowl is just around the corner and if you don't want to host a party this year, head over to the Renaissance Church in Summit, NJ! The cafeteria will be full of food and drinks and the auditorium will be set up to watch the game and mingle while we watch some football and enjoy the amazing commercials, so all you need to do is show up! For more inormation or to help out, please email Info@RenChurch.com.
2 Kent Place Blvd, Summit, New Jersey 07901
30. Unearth "Science Day" 
February 25 | 9:30 AM – 3 P
This is a "hands-on" workshop designed for students in grades 4-8, lead by volunteers with a passion for STEM research and teaching children. For more information, please call 973-684-4786 or email passaic4h@njaes.rutgers.edu.
Passaic County College
Paterson, New Jersey 07505